DENK MAL AM ORT
Wir leben und wirken in Häusern mit Vergangenheit. Darauf macht die Initiative DENK MAL AM ORT eindringlich aufmerksam, indem sie an authentischen Wohn- und Lebensorten erinnert an ehemalige Nachbarn, die während der NS-Zeit verfolgt wurden.
Das Projekt geht zurück auf die Initiative OPEN JEWISH HOMES der Niederländerin Denise Citroen:
Every house has a story to tell and it is good to shed more light on this once a year.
Seit 2016 werden am ersten Wochenende, das auf den Jahrestag der Kapitulation folgt, die Haus- oder Wohnungstüren geöffnet und die Namen unserer ehemaligen Nachbar*innen, Bruchstücke ihrer Biografien, Verfolgungs- und Fluchtgeschichten sichtbar gemacht in Gesprächen, Lesungen, Texten, Installationen, Zeichnungen, Musik, Audio, Film, Poesie, Gesang u. m.
Kinder und Enkel aus aller Welt reisen an, um gemeinsam mit den jetzigen Hausbewohner*innen an die Geschichten ihrer Familien zu erinnern.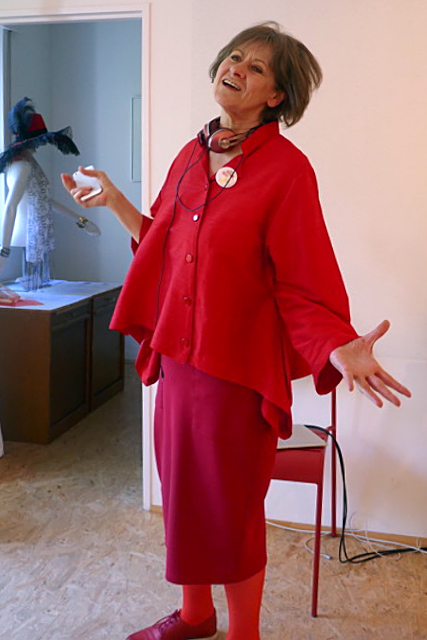 Im Rahmen der Initiative DENK MAL AM ORT führte ich meine ersten Akustischen Stolpersteine auf in der Ausstellung am 5. und 6. Mai 2018 – Atelier im Blauen Haus, Mittenwalder Straße 32, Berlin-Kreuzberg – mit Bildern und Objekten von Eva Kreutzberger und Oscar Castillo. Mein Gedenken an 10 verfolgte, deportierte, in den Selbstmord getriebene oder ermordete Opfer des Nationalsozialismus rund um den Marheinekeplatz:
Wilhelm Böttcher ➾
Hedwig Engel und Margarete Riesenfeld ➾
Käthe Grell ➾
Moses + Chana Günzberg ➾
Max Tarrasch ➾
Johann "Rukeli" Trollmann ➾
Werner + Willi Weinberg ➾


Bereits in 2017 spielte ich in der Apostel-Paulus-Straße 26, Berlin-Schöneberg, ein "Schmerzrequiem" für 28 aus diesem Haus deportierte Jüdinnen und Juden.
https://www.berliner-woche.de/schoeneberg/c-kultur/erinnerung-an-juedische-nachbarn-am-beispiel-der-apostel-paulus-strasse-26_a124888


In 2019 beteiligte ich mich in der Haberlandstraße 8 in Berlin-Schöneberg mit der Komposition "Ich lebe meine Tagträume in Musik" an einer Veranstaltung für Albert Einstein, der emigrieren konnte, aber viele seiner Nachbar*innen im Bayerischen Viertel nicht. Der Schriftsteller Gregorio Ortega Coto lebt heute an gleicher Stelle, an der die Wohnung von Einstein war, und öffnete seine Tür für Publikum.
https://soundcloud.com/marion-fabian

In den Jahren 2020 und 2021 konnte die Initiative DENK MAL AM ORT keine Live-Veranstaltungen verwirklichen, statt dessen gibt es filmische Erinnerungen. https://www.denkmalamort.de/deutsch/filmische-erinnerungen-aus-berlin/
2022 wurden wieder an vielen Orten die ehemaligen Bewohner*innen beim Namen genannt und ihrer gedacht. In der Hewaldstraße in Schöneberg war ich am 8. Mai 2022 mit einem Wandelkonzert unterwegs. 11 Hausnummern hat die kleine Kirschblütenallee, vor 3 Häusern wurde mit Akustischen Stolpersteinen an unsere ehemaligen Nachbar*innen erinnert mit Kompositionen für:
Senta und Dr. Felix Wolff ➾
Erna Berta und Ferdinand Herzstein ➾
Baschewa ➾ und Paul Hirschfeld ➾
Das Kind Wolfgang Alexander ➾